RAVEN for Microsoft Office
Quickly produce clear, clean and concise requirements specifications – and cut months off development schedules.
By producing rich visualizations in a single click, RAVEN for MS Office transforms your natural language descriptions into diagrams that others can understand and validate, increasing business value and reducing projected costs.
And it works within the Microsoft tools you already use on a daily basis – Word, Excel and Visio – displaying narratives and diagrams side-by-side for greater context and understanding.
Trust RAVEN for Office with:
Validation
Validate early and often. Customers using RAVEN to define and validate business requirements cut months off development schedules.
Agreement and understanding
RAVEN produces rich visualizations and requirements specifications that others can understand and validate, increasing business satisfaction and reducing risk.
Endless iterations and rework
Better requirements leads to better products. RAVEN accelerates requirements elicitation and improves requirements quality, dramatically reducing rework.
Different teams, different methods
RAVEN has the flexibility to change with you, from team to team and project to project. RAVEN adapts to your approach, from agile and iterative methods to more formal processes.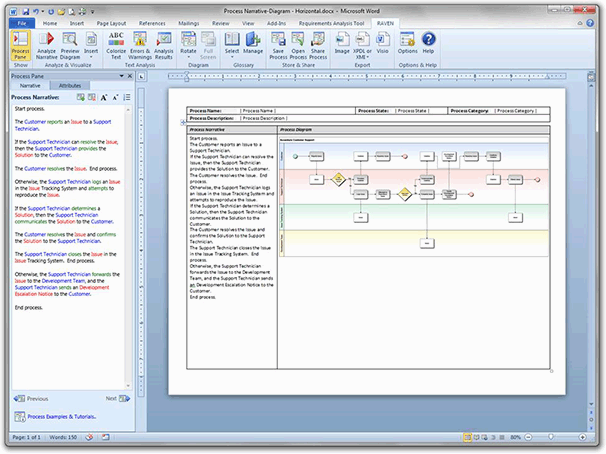 Experience the Benefits:
Experience the velocity of effective visualization
Define requirements as the speed of typing
Create process diagrams instantly
Cut visualization time from hours to seconds
Make changes and corrections instantly, no drawing required
Break the cycle of countless iterations and error
Identify gaps and errors with a single click
Eliminate confusion and misunderstanding with consistent terminology
Provide context with side-by-side narratives and diagrams
Collaborate and validate requirements with just a browser
Reuse and leverage organizational know-how with an integrated requirements repository
Work the way you want
Write narratives the way you speak – naturally
Work with the Microsoft Office tools you use every day
Concentrate on requirements definition, instead of developing drawing expertise
Access your diagrams and narratives in the office, from home or on the road.
Features include:
Raven Cloud: Access RAVEN and collaborate with your team anytime, anywhere.
RAVEN Business Glossary: Eliminate confusion and improve consistency from project to project with a pop-up picklist of actors and objects that you define.
RAVEN Process Repository: Whether you're improving a process or developing the next generation product, why start from scratch when you can reuse, edit
RAVEN for Office Enterprise includes everything you enjoy in our Standard Edition
unlimited users, integration into your requirements management solution, and rights to embed 10+ years of patented R&D in natural language processing within your applications.